Bridge Safety and Inspection
BNSF is committed to the safe operation of every mile of our 32,500-route-mile network. That network includes more than 300 miles of track across more than 13,000 bridges, which must be kept safe, secure and structurally sound. BNSF's Bridge Management Program includes comprehensive inspections and an ongoing commitment to maintaining and repairing and, when necessary, replacing, rail bridges on the BNSF network.
A Track Record of Safety
99.9995% of bridge train miles occur without any type of service interruption.*
0.02% of service interruptions across our entire network are caused by a bridge being removed from service.*
No derailments have been caused by the structural integrity of a bridge.
* Jan. 1, 2009 – Nov. 1, 2015
Federal Regulations
The Federal Railroad Administration (FRA) requires railroads to have a Bridge Management Program to ensure the safety of railroad bridges.
Programs must include a provision for inspecting every bridge in service annually, with no more than 540 days between inspections.
The FRA audits the Bridge Management Programs and inspections records through document review and field verification.
Regular Comprehensive Inspections
Comprehensive Inspections are thorough, visual, documented inspections encompassing the entire bridge structure.
Bridges on BNSF's core routes are typically inspected three times per year, exceeding FRA standards.
BNSF's expert, certified Railroad Bridge Inspectors performed more than 35,000 Comprehensive Inspections in 2015.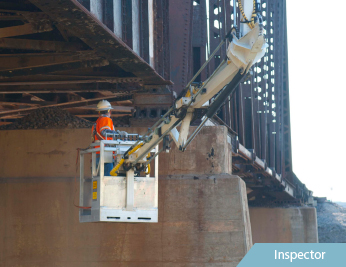 Commitment to Maintenance, Repair & Replacement
In the rare instance a structural defect is identified, the bridge is removed from service until repaired or until a Special Inspection resolves the issue.
Since 2012, BNSF has devoted more than $420 million on bridge maintenance and repair, repairing or replacing more than 340 bridge components and completely replacing more than 290 bridges.
Since 2006, BNSF has devoted more than $1 billion to rail bridge capital investments.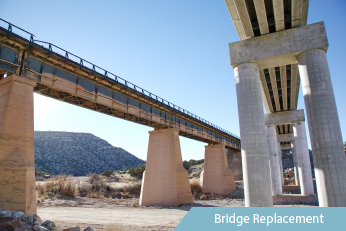 Supplemental Inspection Technology
BNSF owns six and leases two Bridge Inspection Vehicles (BIVs) that are specially equipped to allow safe access to inspect the entire bridge structure; BIVs conduct more than 600 inspections per year.
When a portion of the bridge foundation is underwater, BNSF deploys a team of divers to inspect.
BNSF also conducts supplemental bridge inspections using Unmanned Aerial Vehicles (UAVs).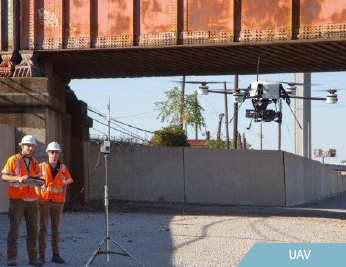 See BNSF's commitment to rail bridge safety in action.